Discovery
I love Idaho Hot Springs! But on this trip, while mid-winter Ski resort hopping, I really did not expect to see many. So, I was delighted when I found some hot springs right up the road from Sun Valley Idaho. Frenchman's Corner is a true hidden gem at Sun Valley.
Frenchman's Corner
Also known as Warfield Hot Springs, these are a set of idaho hot springs that feed into both sides of Warm Springs Creek. One feeds into the road side of the creek and there are two on the other side. To access them you need to take a chilly wade across the creek.  The springs are a set of pools that have been built up over time. Temperature is controlled by changing the amount of cold water entering the pools from the creek.
When I visited it was very quiet, and there was only a little bit of traffic. When I arrived it was early, and the sun had not reached the bottom of the canyon yet.  Steam from the springs and creek had iced up all of the bushes and small trees next to the creek.  This adorned them with light splitting ice prisms, and when the sun peeked into the canyon it lit this ice up like Christmas lights.  No one was using the springs when I got there, but a couple of people showed up after I got out  Although not far from town, the springs have a nice sense of solitude, and I enjoyed a nice long soak.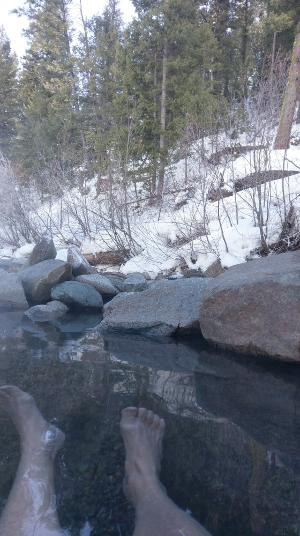 Moss Man
All of these places have their own stories, frenchman's corner is no exception. The Moss Man and his experience with this Idaho hot Spring is one such story.
As reported from the Wood River Journal, March 15, 1984: "A 20-year-old Hailey man was found soaking in a hot mineral pool at Frenchman's Bend last Saturday after having apparently lived there for several weeks. [Name withheld to protect the guilty], was discovered by two cross-country skiers, according to a Blaine County Sheriff's Department report. The skiers observed that some of Becker's skin was peeling and that moss was growing on his back. The semi-conscious victim was taken to Moritz Community Hospital, according to the report. His clothes lay frozen on the ground nearby. A Moritz physician estimated that the victim may have lost 60 pounds while living in the pool. [Becker's sister-in-law said that] the man stood six-two and weighed 210 pounds prior to leaving for Frenchman's Bend, and that he took a lot of amphetamines. 'His brains are really scrambled,' she said."
Really?
If it were not for the newspaper article from the Journal, I would have dismissed this as a rural myth.  It does appear to have happened. And probably because of the bizarre nature of the 28 day event, it inspired a annual, but short lived ceremony to commemorate it, as well as to acknowledge and steward the springs.  For a brief period the locals created the "Moss Man Commemoration and Pagan Fun Fest of Ketchum, Idaho".  It was a ceremony to celebrate the symbolism and visions of the Moss Man, and even more importantly to clean up the hot springs after a winter of use.
This is a great example of commemorating a bizarre event with a ritual of good intent.
Outside magazine did an article  on this here.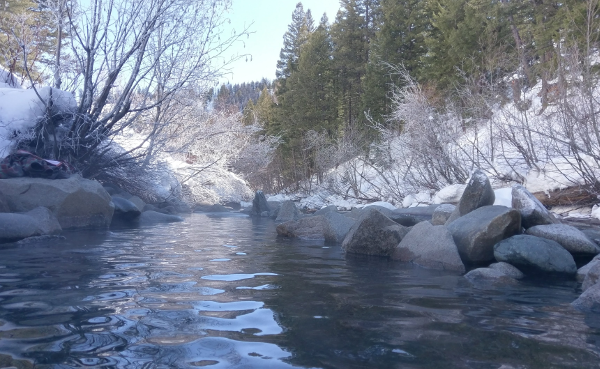 History
These places where water, warmed by the earth, bubbles up and provides a scenic, serene, and peaceful spot for a hot bath are truly special.  There are extensive indian stories about the origination and use of these place. The myths are not limited to idaho hot springs either. In Arkansas there is a place of profound spiritual significance and and good evidence of our government's efforts to erase these beliefs.  There are also the various scientific studies and explorations. One such description about the hydrothermal systems of this area is here.
Frenchman's Corner Hot Springs is like many such places.  It is unique in its own way, but also similar in that it is a wonderful place to decompress and meet other travelers. A comfortable spot to take in breathtaking scenery, and sit in gratitude.
To find this spot so close to where I was visiting was a gift. And the story of Moss Man served as an amusing highlight. It is not too hard to see how it could have come about, and its significance is a bit of a head scratcher.  Moss Man was stranded for twenty eight days. He saw a white wolf kill a deer. And he was entombed and assimilated by the warm waters of the spring. Knowing this, I suspect there are other older stories about this place, and I would love to hear them.  If you know more about this place perhaps and would like to share it, contact me through this blog or add your name to our email list.
Thanks for reading, and don't forget to subscribe!

1080 Warm Springs Rd, Ketchum, ID 83340, USA