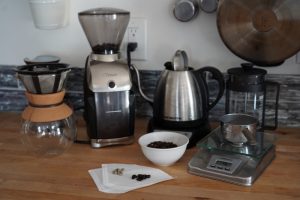 Coffee, sublime and ordinary. A beverage, a sanctuary, a passion, and a crutch. Coffee can be a simple staple or a connoisseurs delight. My journey with coffee started long ago and has evolved as I have grown older. Years ago a friend made me the perfect cup of coffee, Italian espresso. That ended my days of Folgers and freeze dried coffee.
Time to learn
It was only recently though, that I became really serious about learning what makes a good cup of coffee. I had found a source for coffee beans that was quite good. And it was not just my personal tastes, this coffee always got high praise. But unfortunately, nothing lasts. The coffee became hard to get once I relocated to Reno Nevada. But the loss of my favorite coffee created motivation to find the perfect cup of coffee in my new home.
Something new
So I ventured forth in my new community, looking for the perfect cup of coffee, one equal to my old favorite. Easy, right? Not so much. The java I really love is a dark roast, and the inexplicable trend these days is light to medium roasts. It did not take long to get used to the pierced and bearded barista telling me that dark roast was dead. Real coffee drinkers only drank light or, (sigh, if you must), medium roasts. The thing is though, the rare roast master with more than a years worth of experience never echoed this sentiment. And many of my coffee drinking friends really like a good dark roasted coffee. So I question this idea. I mean it is really arguing against several hundred years of coffee roasting experience, right?
So, the search continued. And on the way, I found out some things about coffee.
Coming soon: Whole Bean?