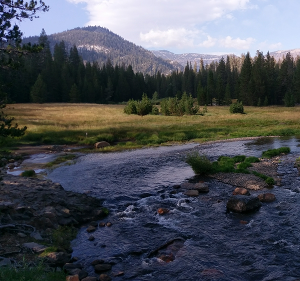 The Seven Principles of Leave No Trace are the bedrock of the Leave No Trace program. They provide guidance to minimize the impact of exploring our natural world.  They also allow us to travel in a sustainable way that avoids or minimizes human-created impacts.
The principles are the result of technological innovation in camping equipment.  The development of gas stoves, light weight sleeping bags and essential outdoor gear drove commercial interest in incentivising people to explore their environment.  This effort was successful, and in the years following, more and more people ventured further and further into the wilderness.  As the numbers increased so did the impact of those visits.  Because of these impacts the United States Forest Service, the Bureau of Land Management, and the National Park Service jointly developed programs to teach their visitors how to minimize the impact of their visits on the land. In 1987 the three departments cooperatively developed a pamphlet titled "Leave No Trace Land Ethics".  At the same time other groups such as the Boy Scouts of America and the Sierra Club advocated a stewardship approach to exploring the back country.  
The First Set of Principles
These efforts lead to the formation of seven principles.  Later, they lead to the development of seven more principles for the front country. Additionally, a "Tread Lightly" campaign for motorized vehicle travel was eventually adopted. You can find additional information and a more in depth exploration on Wikipedia and there is a not-for-profit Leave No Trace,  Center for Outdoor Ethics who has used them to monetize their organization.  They have extensive information on these principles.
Rethinking Our Role
These principles were born from a technological breakthrough. This allowed companies to profit from our need to know more about our environment.  As our understanding and appreciation of our planet increases, it is important to allow our perspective and understanding to evolve as well. Humans have always impacted their environment.  The effect of those impacts are whether they were done from the stand point of a steward or a consumer. The commercial emphasis on the "leave no trace" ideas helps to decouple us from our environment.  This is the core of what has allowed us to do the damage we have done.  Accountability becomes a casualty when we believe we are separate from our environment.
Adhering to the seven principles to minimizing impacts to the places we visit is a critical part of learning, exploring and sharing.  There is more however, to shift our thinking back to becoming stewards, we need collaboration, dialog, radical approaches to create accountability and education.  It is in that spirit that the first seven principles I have listed here are the Seven Principles Beyond Leave No Trace. These were developed by Gregory Simon and Peter Alagona.  Next are the back country then the front country principles.
There is an excellent discussion of these principles here
Beyond Leave No Trace
Educate yourself and others about the places you visit
Purchase only the equipment and clothing you need
Take care of the equipment and clothing you have
Make conscientious food, equipment, and clothing consumption choices
Minimize waste production
Reduce energy consumption
Get involved by conserving and restoring the places you visit
Backcountry
Plan ahead and prepare: Poorly prepared people, when presented with unexpected situations, often resort to high-impact solutions that degrade the outdoors or put themselves at risk. Proper planning leads to less impact.
Travel and camp on durable surfaces: Damage to land occurs when surface vegetation or communities of organisms are trampled beyond repair. The resulting barren area leads to unusable trails, campsites, and soil erosion.
Dispose of waste properly: Trash and litter in the backcountry ranks high as a problem in the minds of many backcountry visitors. This will greatly detract from the naturalness of an area and could potentially cause greater environmental damage. If no trash receptacles are available, visitors should carry out all trash from what they have brought in. Furthermore, backcountry campers create waste water from certain activities and fecal waste which requires proper disposal according to Leave No Trace principles. (Urinating in the woods is not a violation of Leave No Trace).
Leave what you find: Leave No Trace directs people to minimize site alterations by avoiding actions such as digging tent trenches, cutting branches from live trees, hammering nails into trees, permanently clearing an area of rocks or twigs, or removing other natural items.
Minimize campfire impacts: Because the naturalness of many areas has been degraded by overuse of fires, Leave No Trace teaches to seek alternatives to fires or use low-impact fires.
Respect wildlife: minimizing impact on wildlife and ecosystems.
Be considerate of other visitors: Following hiking etiquette and maintaining quiet allows visitors to go through the wilderness with minimal impact on other users.
Frontcountry
Know before you go
Stick to trails and camp overnight right
Stash your trash and pick up waste
Leave it as you find it
Be careful with fire
Keep wildlife wild
Share our trails and manage your pet