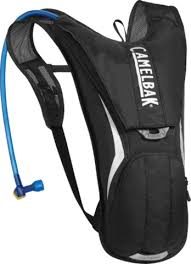 One of the best way to enjoy being active is to have plenty of water.  So one of the best travel inventions of last century was the hydration pack. Designed to transport water and make drinking convenient and efficient. In fact, with most hydration packs, you don't have to stop, or even slow down, to take a sip of water; you simply grab the drink tube that's connected to the included water reservoir (called a bladder).
When choosing a hydration pack, you first want to make sure it is designed for the activity you intend to use it for, and then consider things like capacity, fit and extra features. Keep in mind that nearly all newer daypacks and backpacks come with a hydration reservoir and are designed with an interior sleeve that can hold a reservoir. If your pack has a pocket for a reservoir you can simply add one to it to make it a hydration pack.
Types of Hydration Packs
There are two main types of hydration packs: hydration backpacks and hydration waistpacks. Within each of those categories there are packs made specifically for different activities, such as hiking, trail running, mountain biking, cycling, skiing and snowboarding. The common feature among nearly all of them is the bladder and hydration tube that makes drinking easy.
Hiking hydration packs: These packs are like standard packs for hiking and usually feature cargo space for food, and the Ten Essentials that you should carry on every outing. They range in size from small day packs for short hikes to ones that are big enough for light overnighters.
Cold weather hydration packs: Designed for activities like winter camping, skiing and snowboarding, cold weather hydration packs are winterized to help keep your water supply from freezing. That means there's insulation on the reservoir and hydration tube, and often a bite valve cover. Some snowsports-specific packs include tiedown points or carry straps to allow hands-free transport of a snowboard or skis.
Hydration waistpacks: as the name implies, these packs are carried around your waist. Many of them include water bottles rather than a reservoir, and the cargo space is smaller than most packs provide.
Waistpacks are nice for light and fast adventures, like a sort hike, trail run or cross-country ski, where you don't need to carry much gear and you don't want your movement hindered by a bigger pack on your back.
Hydration Pack Capacity
Make sure the hydration pack you choose can carry enough water and gear to meet your needs.
Hydration Pack Reservoir Capacity
Water isn't light (1 liter weighs approximately 2 pounds), so think about how much water you will need and whether you'll be able to refill along the way. Purchase the hydration pack that best fits these criteria. Really active outdoors people will have more than one type based on their needs.
Remember that you don't have to fill the reservoir to the brim on every outing. To keep weight low on shorter trips, carry only the amount of water you anticipate needing.
Here are some things to think about related to reservoir capacity:
16 fluid ounces or less, (0.5 liter) : Packs with minimal water capacity are usually waistpacks that include one or two water bottles. They're best for lightweight pursuits like running or walking.
32 or 50 fluid ounces, (1 liter or 1.5 liters): A good choice for short-distance hikers, bike commuters and runners.
70 or 85 fluid ounces, (2 liters or 2.5 liters): These reservoir sizes offer a good balance of weight and bulk while providing a sufficient quantity of water that in most situations will require only occasional refilling.
100 fluid ounces or more, (3 liters or more ): Made for the thirstiest of adventurers or those who don't want to stop to refill. They're also good for anyone exploring terrain where water is scarce.
Hydration Pack Capacity: The gear capacity of hydration packs ranges from less than 5 liters up to about 50 liters. To figure out how much space you need, run through a mental inventory of the gear you carry. Can the pack accommodate everything you will need? Does it provide enough space for the length of trips you take?
Sizes
5 liters or less: Most of these small packs are built for lightweight pursuits like running and ultralight hiking. Their compact and low-profile design provides room for only a handful of essentials.
6 liters to 10 liters: Lots of packs in this range are designed for mountain biking or trail running. They have enough space to easily fit an extra layer or two, food for the day and your phone and camera.
11 liters to 20 liters: These midsize packs are often built for hiking, mountain biking and feature extra pockets for staying organized. Their larger capacity lets you carry enough clothes, food, emergency equipment for longer explorations.
21 liters or more: Any hydration pack over about 21 liters is usually designed for hiking. These have enough cargo room and comfort and load-support features to perform well on long hikes. Some are even big enough for light-and-fast overnight adventures.
Hydration Pack Fit:
Once you've figured out the type of hydration pack you want and the capacity, it's time to make sure it fits you properly.
The right fit offers:
A size appropriate for your torso length
A comfortably snug grip on your hips
Torso Length
Some packs are available in multiple sizes, from extra small to large, which fit a range of torso lengths. These ranges vary by manufacturer and gender.
Other packs have an adjustable suspension that can be modified to fit your torso. This is helpful if you're often in-between sizes.
Waist Size
Hydration pack hipbelts usually fit a wide range of hip sizes.
Hydration Packs for Women
These packs have hipbelts and s shaped shoulder straps that are contoured with the female form in mind. Torso dimensions are generally shorter and narrower. Because they are available in smaller sizes, women's backpacks often work well for young backpackers of either gender.
Youth-Specific Hydration Packs
These often offer smaller capacities and include adjustable suspension to accommodate a child's growth. You can also try women's backpacks or small sizes of some men's packs.
Hydration Pack Features
Bite valve shutoff switch: Ask frfiends who have hydration packs what kind of bite valve they have and if they like it.  better yet, see if you can use it.  There several types, some bite valves twist to open and close; others have a switch to prevent leakage.
Tube portals: This is a slit in the backpack that allows you to thread the sip tube from the reservoir inside the pack to the exterior. Many packs offer two portals so you can position the tube to hang over either shoulder. Some packs offer a single, centered portal.
Clips: Many hydration packs include a clip on a shoulder strap to keep your tube positioned for easy access.
Quick-disconnect tubing: Some reservoirs include a drink tube that easily disconnects from the body of the reservoir, which is nice when it's time to refill the reservoir midhike. You simply disconnect the tube with the press of a button and pull the reservoir from your pack. This allows you to leave the tube in place, which is especially handy if you have it routed through a tube portal.
Wide-mouth opening: Wide-mouth openings usually allow you to fit a hand inside the reservoir, which makes cleaning easy. If you choose a reservoir with a smaller opening, you can purchase a cleaning kit that includes brushes for scrubbing out the inside.
Cold weather add-ons: Assorted winterized add-ons are available, including insulated sip tubes, insulated reservoirs, reservoir covers and bite valve covers. They can be handy, though they add a little bulk and weight to your system.  You can also put the hydration pack under your parka to keep it from freezing.
Raincover: A raincover is a good add-on if you recreate in all types of weather.