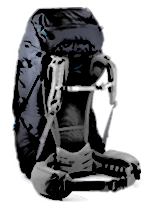 The first thing you need when hiking, regardless of whether you are going overnight, for a week or for a whole year, is a good backpack to carry your gear.
Overnight Backpacks come in two flavors; internally framed or externally framed.  There are also ultralight backpacks that are used by experts and ultralight enthusiasts, but those are beyond the scope of this article. To learn how to choose the best overnight backpack and find the one that is just right for you, you need to know the strengths and weaknesses of each type. Click on the graphic below to learn about the differences between backpacks. A list with the same information is provided below.
Also check out our introduction to one of the best inventions of last century: hydration packs
Return to Hiking
Internally Frame Backpacks
Frame is made up of frame sheets that can be made from plastic metal, or even carbon fiber. More recent innovations allow the framing sheets.
Very popular, internal and frameless packs have become very much in vogue in the last couple of decades.
Lighter, smaller internal frame reduces weight.
Better for climbing and skiing, packs contour to your body and are not as bulky as a externally framed pack. This puts the load closer to your body and allows for more stability and balance.
Internally framed packs do not breath as well. Because these pack conform to your body the air gap between the pack and your back and shoulders is reduced. This causes the sweaty back syndrome that can become quite uncomfortable at times. Mesh suspension systems have helped with this problem.
Stable, contours to your body. Contouring the load to your body brings it closer to your center of gravity, and keeps it from shifting. This makes for a more stable pack that is better suited for bushwhacking, climbing and skiing. Not fully transferred the load to your hips is a drawback.
Very high end internal framed packs have overcome this by using carbon fiber framing sheets which are very rigid and allow for better load transfer.
Usually one huge compartment for storing gear.
Difficult to attach objects externally. With no external frame, attaching things externally to the pack is difficult.  many would argue that this is a good thing.
Externally Framed Backpacks
These packs have been around in one form or another for a very long time. They are much cheaper to build and purchase. They have also benefited from technology. External framed backpacks are the work horse of backpacks. If you are frequently hauling big loads and/or irregular loads on maintained trails, these are the pack to use.
Economical, because the external frame backpacks have been around
much longer, and are less costly to produce, they are significantly cheaper than their internally framed counter types.
Better Ventilation, the frame holds the pack and frame away from the body, aligning it with the hips.  This allows for a large airgap and good ventilation between the pack frame and back.
Better for irregular or heavy loads. Because of its superior load distribution these packs, in general, do a better job with heavy loads and irregular loads such as inflatable kayaks.
Better weight distribution. In terms of load transfer, an ideal backpack frame design is the large tubular rectangle that external frame packs use. The pack's fabric body hangs from the frame, and all its weight is transferred down to your hips, where it's supported by the largest, most powerful muscle group in your body—your legs. The shoulder straps are basically just to keep the frame from falling away from your back.
Easier to organize. External framed packs usually have two main compartments and multiple small and large pockets for storage. they also have a lot of attachment points for connecting things externally to the pack. This makes organization much easier.
Bulky and not as balanced. this is because the external frame holds the pack and load away from your body.  This can cause the center of gravity to shift and the edges of the external frame to catch on branches rocks and objects.